About Coldwell Banker Bill Beck Real Estate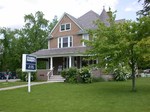 2014
2013
2012
2011
2010
2009
2008
Read More
.
Read More
I was glad to be able to sell this house during such a troubled economic period. Thanks.
---
I am completely satisfied that every aspect of promoting, advertising, showing and - last but definitely not least with this buyer - closing was handled professionally by Jackie and everyone in the CB Bill Beck office. Thanks.
While I have your attention - Habitat for Humanity of Addison County appreciates your support.
---
We very much appreciate all the contributions made by your Company!
---
THANK YOU! We love our new house.
---
We bought our slice of Vermont with you and alas, sold our little dream of rural life with you. You made it as painless as possible.
---
You were all great – Thank you, Thank you.
---
We were very happy with your service and have recommended Coldwell Banker Bill Beck Real Estate to other people. I do not believe you could have done a better job. Thank you.


Read More
Coldwell Banker Bill Beck Real Estate is an independently owned affiliate of the prominent, world wide Coldwell Banker organization. The company was established in 1977 and quickly became the preeminent real estate company in Addison County. We pride ourselves on developing quality working relationships with our clientele; relationships based on respect, integrity and trust. Whether you are purchasing, selling or both, we ensure that you have the support you need to make sound decisions. We look forward to providing you with a real estate experience that will exceed your expectations.
Read More